GET MORE OUT OF YOUR CARPORT
Because of small garages — or lack of garages — millions of people are forced to leave one of their most expensive investments outside year-round: their car. That can be problematic, especially here in Memphis where summers are HOT and, in the winter, even a few inches of ice and snow can wreak havoc on cars, trucks, and SUVs.
And it's not just the potential for damage or wear and tear. Do you like scraping ice off of your car on sub-freezing days? Or hopping into a super hot car during the scorching summer months? Want to bring groceries in during a thunderstorm? No one does — and that's where metal carports come in. If you don't have a garage or lack the garage space you need to accommodate your vehicles, these add-ons can provide the space, security and ease you're looking for, and more.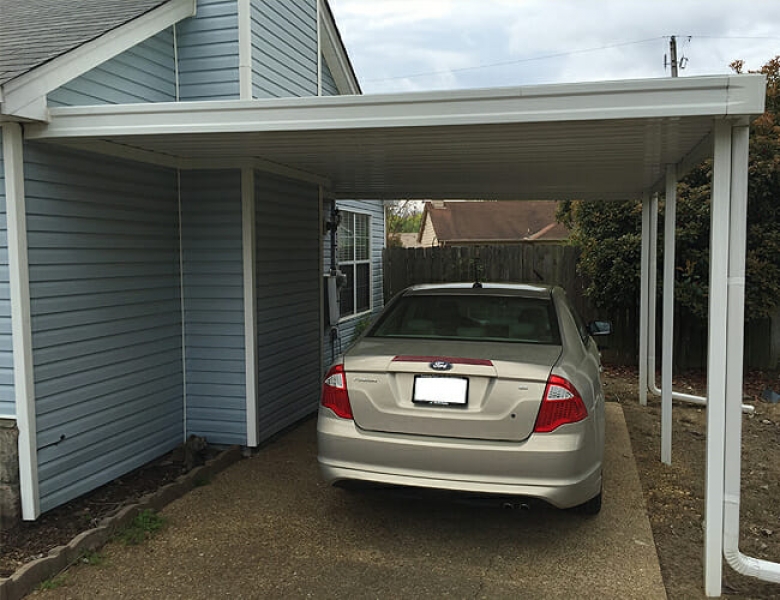 Reasons You Need a Carport if You Park Outside
Protection from Weather
A metal carport protects against ice, snow, rain, and sun. With a metal carport, you never have to worry about racing home ahead of the rain or stress about the sun damaging the interior or exterior of your car this summer. Plus, starting the car in the morning is quick and painless — bonus!
Adds Value to Your Home
Not having a garage can be a turnoff for homebuyers. If you live in a neighborhood where none of the houses have garages, a carport will give you a huge competitive edge. Likewise, if your house is one of the only ones without a garage, a carport will make your home attractive to buyers exclusively seeking properties with garages.
Easy to Install
Most carports can be installed in one day, and require significantly less time and labor than a traditional garage, Plus, zoning codes and building requirements are less stringent than they are with traditional garages, making the entire process hassle-free. You can schedule a free consultation with Maclin Security Door today and have a new carport next week!
Affordable
Metal carports are durable, will stay beautiful for many years and cost thousands of dollars less than a garage. Think about it — a new garage requires extensive zoning and permitting, and the construction isn't limited to just the garage. Your contractor will also have to cut new doors and make other modifications (and mess!) inside your home. Why bother?
Your Trusted Provider of Security & Storm Doors & More