Skip to Content
Custom Built Patio Covers in Memphis, TN
Maclin Security Doors provides the Mid-South with patio covers and awnings that are both beautiful and functional. Our subtropical climate in southwestern Tennessee is one of the best things about living here. In fact, we average 218 sunny days a year! But sometimes the resulting heat is unbearable, rendering your patio useless.
Although we can't change the sun, we can certainly adapt. By installing a patio cover, you can beat the heat and ensure that your porch is a great place to relax in any season.
Check out our five favorite things about having a covered patio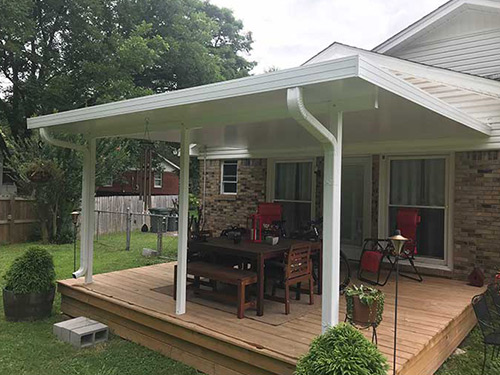 1. Your patio cover protects you from the elements
Come blistering heat, pouring rain, or flurrying snow, a patio cover will keep your outdoor furniture safe from the weather and allow you to continue enjoying the outdoors even in the rain. Don't let a thunderstorm push you indoors. Use your covered patio as a way to relax outside any time of year.
2. A patio cover lets you host barbecues and parties no matter the weather
Stop worrying about the forecast when planning a party. When you have a covered patio, you can keep grilling even through pop-up thunderstorms and hail. When it's sweltering, your covered patio also makes a great spot for your heat-sensitive guests to cool down and relax without having to go inside and leave the party.
3. A patio cover protects your outdoor furniture all year round
When you have a covered patio, you no longer have to sprint to recover your outdoor furniture before a storm or find a way to store bulky couches and chairs during winter. Your awning shields your furniture from snow, ice, rain, and sun damage. It also provides a great place to chill in the winter while the kids and pets play in the snow!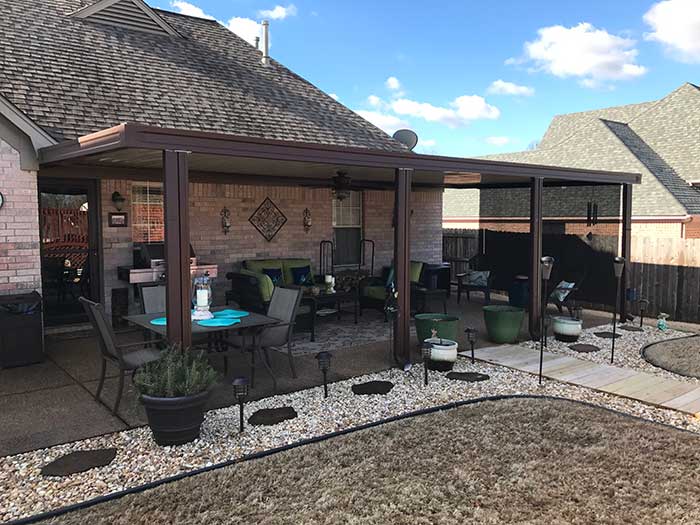 4. A patio cover adds resale value to your home
A patio cover is an easy way to add that "Wow!" factor to your home. Not only does it look great, but there are countless styles, shapes, and color options available. Whether you want your awning to blend seamlessly with your home as if it was always there, or act as a bold statement piece, we'll help you choose the cover that fits your needs, property, and budget.
5. A patio cover can turn your space into whatever you want it to be at any time of year
When you install a patio cover, you expand the functional opportunities for your porch. You could add an outdoor kitchen to your backyard for that perfect al fresco meal. You could add a television and bar for the most awesome game-day party ever. You could even turn your patio into a relaxing work-from-home spot. The beauty of a patio cover is that it creates an endlessly adaptable space for whatever you need.
Need inspiration for your new covered patio?
We've helped dozens of clients across the Mid-South install metal awnings and steel patio covers. Browse our gallery for covered patio ideas and see how we've seamlessly or boldly joined these additions to people's homes.
Get a free quote for your covered patio today!