GET MORE OUT OF YOUR PATIO COVER
The sunny, subtropical climate in Memphis is, hands down, one of the best things about living in southwestern Tennessee. With all that sun—about 218 days per year, on average—comes tons of opportunities to entertain friends and family, host backyard barbecues and use your outdoor space in a big way. But, of course, there's a flip side—specifically, that all the sunshine can bring unbearable heat, leaving your patio uncomfortable or, worse, unusable during the warmer months. The solution? Get a patio cover.
Patio covers make it easy to maximize your outdoor space. At Maclin Security Doors, we offer a wide range of designs that will fit your patio's unique shape and size all while complementing your home's appearance. Still not sold? Check out our top five reasons customers love their patio covers—then get one and get out.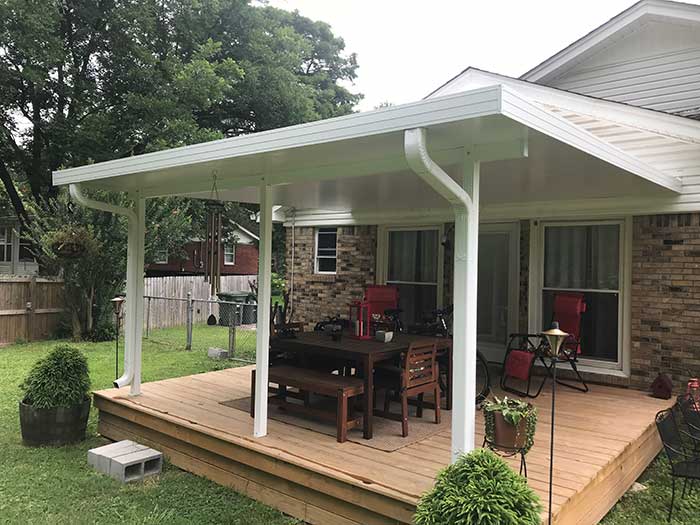 5 Reasons to Get a New Patio Cover
#1. Patio Covers Protect Against the Elements
Whether its blistering hot, pouring rain or even snowing, a patio cover will keep you and your outdoor furniture safe and comfortable. A covered patio is the perfect place to sit and relax outdoors any time of year. Bonus: thunderstorm "viewing parties" from your patio!
#2. Host More Barbecues and Patio Parties
A little bit of rain spoiled your last BBQ? With a patio cover, that's last season's worry. Patio covers give users the freedom to plan and play all year long, without having to worry about the forecast. Plus, by opening up an "all-weather" patio, you'll instantly expand your home by providing a go-to spot friends and family can access anytime.
#3. Keep Your Outdoor Furniture Safe, Year-Round
If you're tired of dashing outside to recover patio furniture at the first sign of rain, or hauling bulky pieces into the garage during the winter, you need a patio cover. These covers will keep your patio and everyone on it dry and safe from snow, ice, rain and sun damage. A covered patio is also a great place to sit in the winter while the kids—or your four-legged family members!—play outside.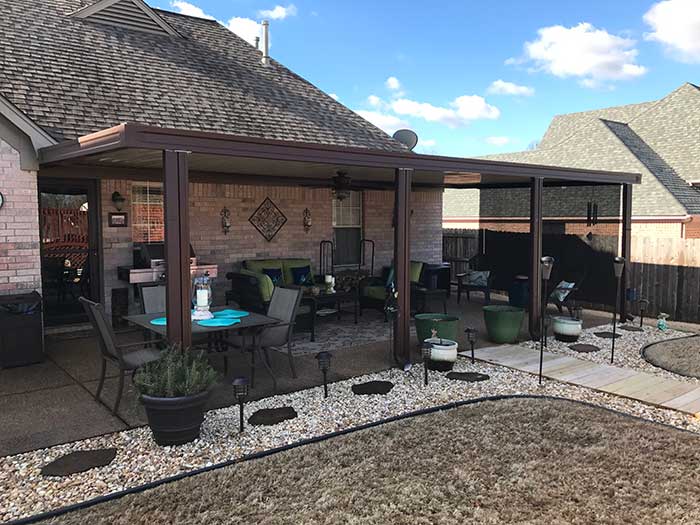 #4. Add That "Wow" Factor to Your Home
A patio cover, simply, looks great. Available in countless styles, shapes and colors, it's easy to find a version that is perfect for your home. Your contractor or the Maclin team can help you choose a cover that's right for your needs, your property and your budget. Some people want a patio cover that looks like a natural extension of their home—others choose bold styles that enhance the appearance of their backyard. Either way, get ready for that "wow" factor
#5. Build an Outdoor Kitchen or Play Area
While you're creating the backyard of your dreams, don't forget about those little extras that make a huge difference. A covered patio is a great place to add an outdoor kitchen, perfect for meals al fresco. Or consider adding a TV and bar to create a go-to spot for game day. Work from home? Take your office outside and work under your patio cover. That's the beauty of having a covered patio—the space you create can be anything you want.
Your Trusted Provider of Security & Storm Doors & More