Skip to Content
Patio Covers in Memphis, TN
The Best Outdoor Patio Covers
Experience the perfect blend of style and functionality for your outdoor spaces with Maclin Security Doors' premium patio cover services in Memphis, TN. As a family-owned and operated company, we take pride in serving families throughout the mid-South for decades, and our commitment to excellence sets the pace for the entire industry. With our expert craftsmanship, unwavering work ethic, and dedication to meeting your needs and budget, we offer premier products and unmatched expertise to provide the security and comfort your family deserves. Discover the ideal patio cover solution tailored to your home today with Maclin Security Doors. Contact us now for a free consultation, and let us transform your patio into a haven of relaxation and protection.
Benefits of a Covered Patio
Enhance your outdoor living experience with a patio shade cover, offering a multitude of advantages that cater to both comfort and aesthetics. The benefits include:
Weather Protection – Shield yourself and your outdoor furniture from rain, sun, and other elements, ensuring a year-round usable space regardless of weather conditions.
Extended Living Area – Backyard patio covers extend your living space, providing a versatile area for relaxation, dining, and entertaining guests.
Versatile Design Options – Choose from various styles and materials to match your home's architecture and personal taste, creating a seamless transition between indoors and outdoors.
Energy Efficiency – Depending on the design, a covered patio can help regulate indoor temperatures, potentially reducing cooling costs during hot seasons.
Privacy and Security – Enjoy a sense of privacy with a covered patio that shields you from prying eyes while providing added security for your home.
Reduced Maintenance – Protect your patio area from debris, leaves, and bird droppings, minimizing the maintenance required to keep your outdoor space clean.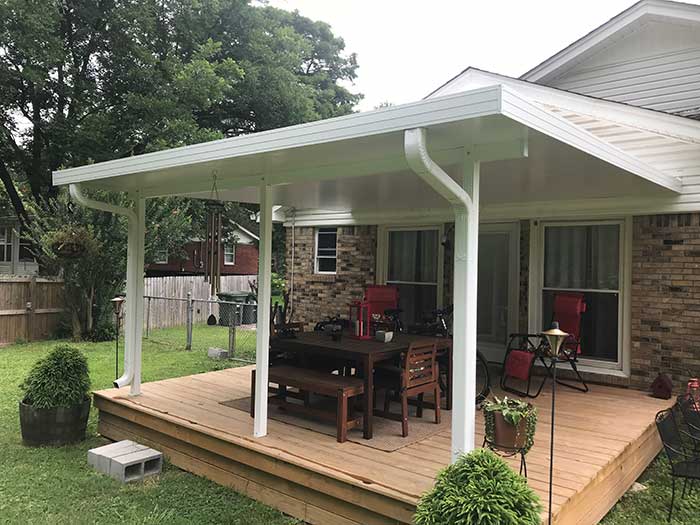 How Does A Patio Cover Affect Home Value?
A patio cover can have a positive impact on home value due to its numerous benefits. By providing a versatile outdoor living space that offers weather protection and privacy, a well-designed patio cover enhances the overall functionality and appeal of the property. Additionally, the added square footage and potential energy efficiency improvements can make the home more attractive to potential buyers. With a covered patio, homeowners can enjoy an extended living area, increased curb appeal, and a higher level of comfort, making it a valuable investment that can positively influence the overall value of their home.
Patio Cover or Pergola?
When deciding between a patio cover and a pergola, it boils down to your specific needs and preferences. A patio cover offers complete shelter, shielding you from the elements and providing year-round usability. On the other hand, a pergola adds a touch of elegance and openness to your outdoor space, creating a partially shaded area while allowing some sunlight to filter through. Ultimately, the choice between a patio cover and a pergola depends on your desired level of protection, style, and how you envision using your outdoor space.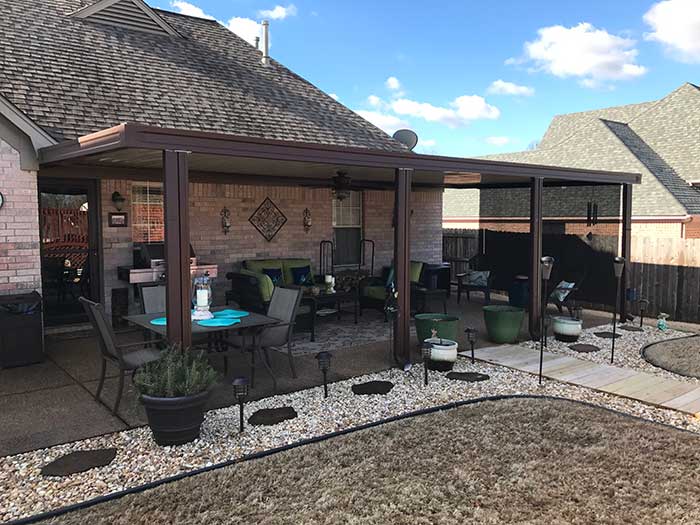 Patio Cover Installation
Patio cover installation involves expertly setting up a sheltered structure over an outdoor space, providing protection from the elements and extending the usable area of your home. A professional installation process typically includes site assessment, material selection, and precise construction techniques to ensure durability and stability. With careful attention to design and functionality, a well-executed patio cover installation enhances your outdoor living experience, offering comfort, privacy, and added home value. Whether you opt for a solid patio cover or an open pergola, a skilled team will ensure a seamless installation that perfectly complements your home's architecture and elevates your outdoor living space.
Our Other Services
Looking for more than just a patio cover? With Maclin Security Doors' expertise and dedication to excellence, we aim to meet all your home improvement needs, ensuring your property is safe, visually appealing, and designed to suit your unique lifestyle. Our expert team provides the following services:
Contact Maclin Security Doors
Secure your home and elevate its appeal with Maclin Security Doors today. Contact us now for top-notch security doors, stylish iron entry doors, custom-covered patios, energy-efficient windows, and more. Let our expert team offer covered patio ideas and tailor solutions to your needs, providing unmatched service and products that ensure your family's safety and comfort.
Need inspiration for your new covered patio?
We've helped dozens of clients across the Mid-South install metal awnings and steel patio covers. Browse our gallery for covered patio ideas and see how we've seamlessly or boldly joined these additions to people's homes.
Get a free quote for your covered patio today!