Skip to Content
Insulated Patio Covers in Memphis, TN
Maclin Security Doors Offers Insulated Patio Cover Services
If you're a Memphis, TN resident looking to invest in a high-quality insulated patio cover for your home or business, Maclin Security Doors has you covered – literally! The Mid-South is known for its sunny, subtropical weather, and we want to ensure you can enjoy the great outdoors while still remaining cool and comfortable. Keep reading or give us a call today to learn more about our insulated patio covers and how they can benefit your home or business.
The Benefits of an Insulated Patio Cover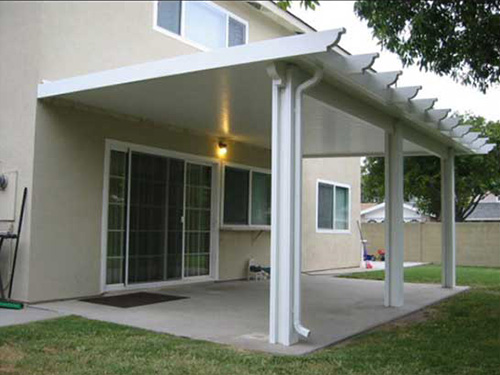 Insulated patio covers have become quite popular throughout the years, especially throughout the Tennessee region, where the weather can shift from pleasant to uncomfortable rather quickly. At Maclin Security Doors, we want to ensure our clients can enjoy their patios year-round with little worry. While we can't change the weather, we can certainly help you adapt with a new insulated patio cover. Some additional benefits of having our professionals install an insulated patio cover at your home or business include the following:
It will feel like we've added an extension to your home or businesses interior
It improves the aesthetics and convenience of your current outdoor space
It will allow you to sit outside while avoiding the adverse effects of harsh weather
It will keep your patio furniture from fading in the sun or becoming wet from rain
It can work to decrease your overall utility bills and even add resale value to our property
The Best Insulated Patio Cover Installs in Tennessee
Our clients expect the very best, which is why we deliver with our insulated aluminum patio covers. Not only is this option one of the best when it comes to material, but it is also non-toxic, lightweight, and highly durable. We understand that insulated patio covers can be quite an investment. The good news is that aluminum is a less expensive alternative to wood or metal patio covers, and we offer many different colors and designs to bring some additional style to your home or business' patio. When you choose our insulated patio roof panels and wall panels, you'll receive an extra layer of insulation with an expanded polystyrene foam core. This is the same insulation material used in many energy-efficient buildings. Not to mention, aluminum is very easy to clean and maintain, so you'll be getting the most out of your investment when you choose this high-quality option.
Where to Install Insulated Patio Covers
When you call on our seasoned team for an insulated patio service, you'll receive an extension to your home or business that can be customized to blend seamlessly with your existing property. No two customers are the same, so you'll never catch us offering one-size-fits-all solutions when it comes to finding the perfect insulated patio cover to meet your unique needs. We have helped commercial and residential property owners all over the Mid-South add beautiful and custom covers to their patios. Whether you're looking to add an insulated patio cover to your home's patio or yard or looking to add a covered, insulated space to your restaurant, public pool, market, or dog park – we can help.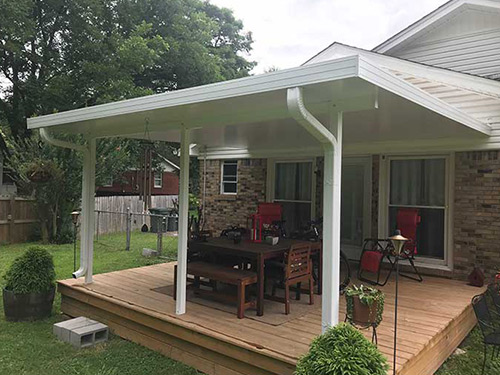 How Will an Insulated Patio Cover Add Value to My Property?
Patios add an extra wow-factor to every home. If you pair your patio with a high-quality, insulated covering, potential buyers are sure to be blown away. Buyers love features that extend their living space and more readily connect them to the great outdoors. Better yet, one of our gorgeous, custom installs can help reduce the cost of your energy bills since insulated aluminum patio covers keep the space much cooler than before. Though smart construction and maintenance is key to impressing potential buyers with a patio cover, you can expect the additional outdoor living space to help you fetch more money for your home.
Get Your Free Insulated Patio Cover Estimate Today!
If you're ready to get started adding instant value to your commercial or residential property, call on Tennessee's premier insulated patio cover team today. We're here to offer the best customization and installation process around, so you can feel confident investing in our insulated patio cover services.
Need inspiration for your new covered patio?
We've helped dozens of clients across the Mid-South install metal awnings and steel patio covers. Browse our gallery for covered patio ideas and see how we've seamlessly or boldly joined these additions to people's homes.