Skip to Content
Customized Security Doors for Homes In and Around the Mid-South Area
A home security door is an integral part of your house's security plan. But just because it provides protection doesn't mean it can't be beautiful. At Maclin Security Doors, we specialize in providing you with superior products that perform highly on three levels: protection, decoration, and insulation.
Protect. Decorate. Insulate.
Ensure your money is being put to good use by getting a security door that is able to function in a variety of ways. Just because your front door is built to protect your home doesn't mean it can't also work in other ways. We can provide you the best protection with customizable, beautiful designs that also insulate your home, helping you save energy.
Protect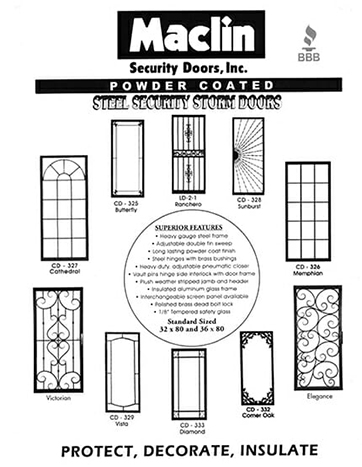 With security at the heart of our company, we offer an extensive number of features meant to keep your home secure. Here are just some of our high-end safety features:
• Heavy-gauge steel frame
• Heavy-duty, adjustable, pneumatic closer
• Vault pins hinge-side interlock with door frame
• Polished brass deadbolt lock
• 1/8-inch tempered safety glass
Now, we also offer impact-resistant glass. Regular and tempered safety glass are easily broken, but impact-resistant glass can withstand almost any beating. Whether you're a commercial building, office, or residence, we can install premium safety material in your building.
Check out this demonstration to see the strength of impact-resistant glass:
Decorate
Your home's security door should look as good as it functions. We offer a variety of options that protect your family while blending seamlessly with the design of your home:
Long-lasting, powder coat finish
Steel hinges with brass bushings
Interchangeable screen panel
Our standard door sizes are 32" x 80" and 36" x 80". We also offer a wide range of colors to choose from, including black, white, almond, sandstone, light gray, and more. If you need a customized job, let us know and we can work with you to get you exactly what you want!
Insulate
Poor insulation can cost you hundreds of dollars in heating and cooling bills. With as hot as our Mid-South summers are, that's not something you can afford. While maintaining security and style, our doors have several features to keep you cool in the summer and warm in the winter:
Plush, weather-stripped jamb and header
Insulated, aluminum, glass frame
Adjustable double-fin sweep
Invest in a security door in Memphis that saves you money on security and utilities.
American-made for American families
We believe in supporting our fellow local businesses and sourcing our products from surrounding communities. We're proud to say all of our products are 100% American-made.
Call today to get your free quote!