GET MORE OUT OF YOUR SECURITY DOOR
At Maclin, we are proud to provide our customers with superior products. We offer exterior security doors, entrance gates and custom fabricated ornamental iron doors. We also offer a variety of lock options and powder coated mailbox stands. From break-in repair to preventative measures, you can trust our products to keep your family safe and keep intruders away.
At Maclin, we are proud to provide our clients with a wide range of doors services. We offer the largest selection of entryways and we can assist with securing your back door and windows. If you need to install a storm door on top of an existing back door, we can help with that also.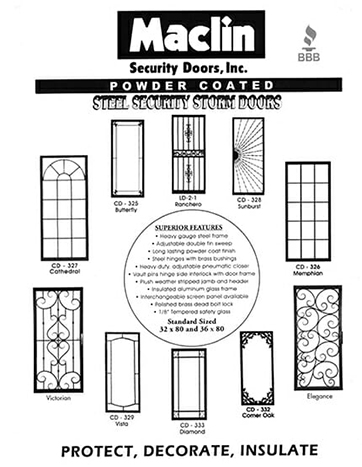 Here Are Some of Our Security Door Features:
• Heavy gauge steel frame
• Adjustable double fin sweep
• Long lasting powder coat finish
• Steel hinges with brass bushings
• Heavy-duty, adjustable pneumatic closer
• Vault pins hinge side interlock with door frame
• Plush weather stripped jamb and header
• Insulated aluminum glass frame
• Interchangeable screen panel available
• Polished brass deadbolt lock
• 1/8" Tempered safety glass
Standard sizes are 32 x 80 and 36 x 80. We also offer a wide range of colors to select from including black, white, almond, sandstone, light gray and more!
At Maclin, We Now Offer Impact-Resistant Glass.
Impact-resistant glass utilizes the best in materials and composites to ensure its strength's and your security. We have experience in installing commercial buildings, commercial offices and residential homes. Contact us today to learn more about this new technology.
To learn more about impact-resistant glass, please view the video.
Your Trusted Provider of Security & Storm Doors & More