Skip to Content
Security Doors in Memphis, TN
Customized Security Doors From Maclin Security Doors
Since 1986, Maclin Security Doors has been providing home and business owners with custom security doors in Memphis, TN, and the mid-south area that offer safety and look beautiful. Modern security doors give the protection that home and business owners want while still offering design and color options that fit the property's style. Our products are 100% American-made and offer custom features from various designs to ensure you can put your personal touches on any door you choose. Visit our FAQ page to learn more about our product offerings, and contact us to schedule an estimate today!
Protect. Decorate. Insulate.
Like all of our home improvement product offerings, our security doors cover three essential qualities for business and homeowners: protection, decoration, and insulation. We offer styles that will allow plenty of light to shine through while still protecting what's important inside. How do we do it? With nearly three decades in the business, we know what responsibilities quality doors must accomplish: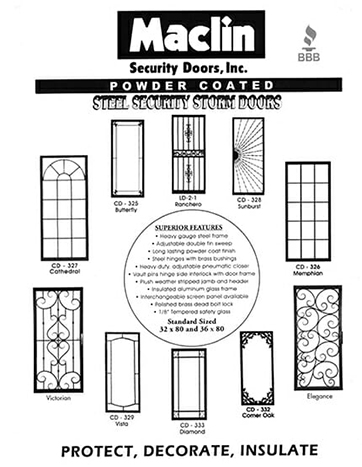 Protect: Our security doors offer high-end safety features, including a heavy-gauge steel frame, heavy-duty adjustable pneumatic closer, vault pins on the hinge-side that interlock with the door frame, polished brass deadbolt lock, and 1/8-inch tempered safety glass. We also offer impact-resistant glass, which can withstand force from almost any attempted break-in, unlike regular or tempered safety glass.
Decorate: Security doors for the home should look as great as the safety functionality they provide. Our doors offer a long-lasting powder coat finish, steel hinges with brass bushings, and an interchangeable screen panel. Standard sizes are available in 32" x 80" and 36" x 80". Choose from a wide range of colors, including black, white, almond, sandstone, light gray, and more! Once you see how many styles and color options are available, you'll realize that a Maclin Security Door will both protect your family and blend in seamlessly with your home or business.
Insulate: Our doors are constructed to not only keep out the bad, but they're heavily insulated to keep in the good, like the warm and cool air generated by your HVAC system. Poor insulation costs families hundreds of dollars a year in wasted energy. Our doors are constructed with a plush weather-stripped jamb and header, an insulated aluminum glass frame, and an adjustable double-fin sweep. Maclin Security Doors are a smart investment that saves you money on security and utilities!
Now, we also offer impact-resistant glass. Regular and tempered safety glass is easily broken, but impact-resistant glass can withstand almost any beating. Whether you're a commercial building, office, or residence, we can install premium safety material in your building.
Check out this demonstration to see the strength of impact-resistant glass:
The Importance of Home Security, Starting at the Front Door
Security is a powerful word that brings to mind images of solid steel doors, chains and locks, and bars across windows. However, security doesn't have to be unsightly or that extreme. Security doors and windows from Maclin Security Doors are some of the most attractive and stylish exterior home products available that will provide you with crucial safety features. Trespassers and burglars seek out one thing; an easy target. If your home or business is protected by high-quality products like ours, a burglar will realize that steel frames, deadbolts, and superior glass are not easy-access points and will move on to a different property. Professionals will tell you that the critical security steps to take that deter burglary are shutting down easy access, good exterior lighting, and keeping on a few lights indoors at night.
Why Choose Maclin Security Doors
At Maclin Security Doors, we are home improvement specialists who install products that look great and perform well against break-ins and harsh weather. We are a locally owned and operated business that believes in supporting our fellow local businesses and communities to help the Mid-South TN area thrive. Our customers choose us because we:
Have over 25 years of experience
Offer 100% American-made products
Are a 2nd generation family business
Install superior products
Offer custom designs
Perform everything from the consultation to the installation
Offer financing options
Have a beautiful showroom to showcase our products
Schedule an Estimate for a Security Door Installation
The team at Maclin Security Doors offers more than exterior door installation in the Memphis, TN area. We offer peace of mind for families and businesses that want to feel safe inside their property or know that it is protected when they're not there. We have nearly three decades of home improvement product experience, from windows and doors to patio covers and sunrooms. Our customers take comfort knowing that our family-owned company will handle every aspect of the job with no sub-contractors involved, from the initial consultation to the final installation of all products. Contact us to schedule a consultation or visit our showroom today!
American-made for American families
We believe in supporting our fellow local businesses and sourcing our products from surrounding communities. We're proud to say all of our products are 100% American-made.
Call today to get your free quote!