Skip to Content
GET MORE OUT OF YOUR SUNROOM
Who doesn't love a sunroom? They're bright, cheery and can be used for virtually anything, from an extended home office to weeknight dinners to entertaining with friends and family — it's no wonder they're so in-demand right now and are helping drive home values up, up, up.
A sunroom — also called a three-season or four-season room — instantly adds functionality, space, and value to any home. Some other benefits of a new sunroom? Start here…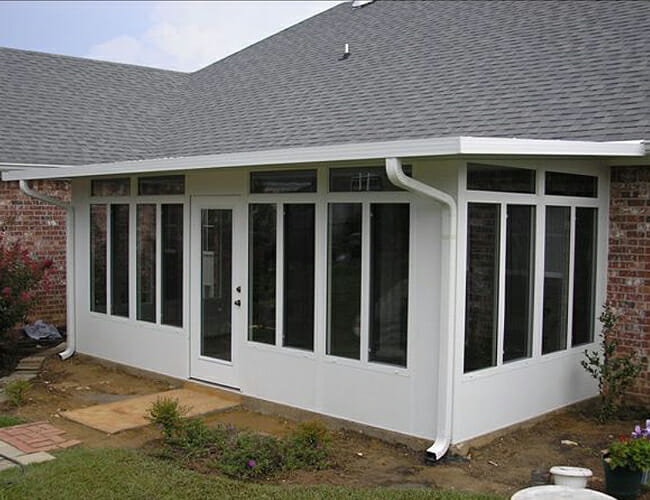 Benefits of a Sunroom for Your Home
The Added Living Space
A sunroom can serve as a sitting area, a home office, a play space for the kids, a breakfast nook, a fitness room — the list goes on and on. Unlike regular and screened patios, sunrooms have walls on all four sides to protect against the elements, while still letting in plenty of natural sunlight. Since sunrooms are enclosed, they also add to the square footage of your home, expanding your footprint and enhancing your home's value.
Enjoy Sunrooms Year-Round
Temperature controls make sunrooms suitable for year-round use. A sunroom may be hot or cold depending on the season, but air conditioning, fans, and heat make them comfortable for use anytime. In other words, it's the perfect place to watch a steamy summer thunderstorm or the first snowfall of the season.
Sunrooms Are Energy Efficient
Even though sunrooms have a lot of windows, technological advances such as "Low-E" glass make it easy to enjoy the beauty of the room without worry about your electricity costs. Energy efficient materials, innovative glass, insulation and other advances keep your home cool in the summer and warm in the winter, giving you the best of both worlds with a new sunroom.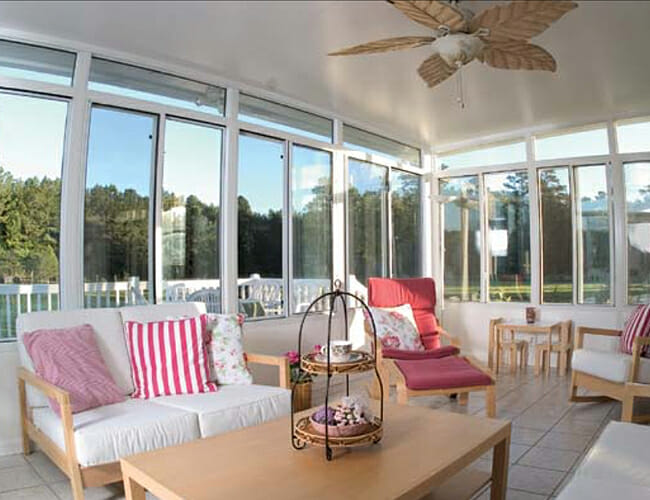 We design each sunroom to meet your specifications, whether that means working on a limited budget or adding special features, such as wiring for an advanced sound system or a door leading out to your newly screened patio enclosure.
Sunrooms Are More Affordable Than Traditional Additions
If your house is too small for your family or you're looking for an economical way to increase your property value, a sunroom is a perfect option. A sunroom is more affordable than a traditional addition and takes significantly less time to build, saving you on labor, supplies and construction time.
You Can Enjoy Natural Sunlight
Natural sunlight is one of the best benefits of adding a sunroom. Even though these spaces are fully enclosed, they're designed to allow natural light to filter in, creating a warm, inviting environment, no matter what the temperature is outside.
Your Trusted Provider of Security & Storm Doors & More