Skip to Content
Sunroom Windows in Memphis, TN
The Best Sunroom Additions Service
Experience the beauty of the outdoors in the comfort of your home with Maclin Security Doors' premium sunroom window addition services in Memphis, TN. Our family-owned and operated company has been serving families in the mid-South for decades, setting the industry standard with our unwavering commitment to excellence. Step into a world of natural light and tranquility with our expertly designed and constructed windows for sunrooms, tailored to suit your unique style and preferences. Whether you seek a serene space for relaxation or an inviting area for entertaining guests, our sunroom additions will elevate your living experience. Discover the perfect blend of functionality and aesthetics with Maclin Security Doors.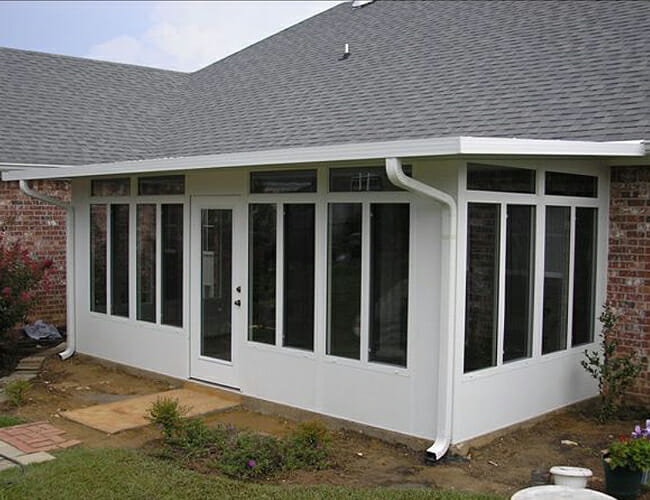 Why Add a Sunroom to Your Home?
Adding a sunroom to your home offers a multitude of benefits that enhance your living experience. A sunroom provides a seamless connection to the outdoors while allowing you to enjoy the beauty of nature in the comfort of your indoor space. With ample natural light and a serene atmosphere, a sunroom becomes perfect for relaxation, reading, or spending quality time with loved ones. A well-designed sunroom can also increase your property's value and serve as a versatile space for entertaining guests, exercising, or pursuing hobbies. A sunroom is an ideal addition that brings nature's beauty into your everyday life.
Sunroom FAQs
Explore the possibilities of a sunroom with Maclin Security Doors, where our expert team can address any other questions you may have and provide tailored solutions to suit your unique needs and aspirations for the perfect sunlit addition to your home. We've compiled a list of frequently asked questions to provide essential information and help you make an informed decision.
What is a sunroom? A sunroom is a room with large windows or glass walls designed to allow ample natural light into the space, providing a connection to the outdoors while offering protection from the elements.
What are the benefits of adding a sunroom to my home? Sunroom windows with screens offer increased living space, abundant natural light, a connection to nature, and versatility for various activities, enhancing your home's overall value and comfort.
Is a sunroom energy-efficient? With proper insulation and energy-efficient windows, a sunroom can be designed to regulate indoor temperatures and reduce heating and cooling costs.
Can I use a sunroom all year round? Yes, a well-insulated sunroom with heating and cooling options can be enjoyed year-round, providing a comfortable space regardless of seasonal changes.
How much does a sunroom cost? The cost of a sunroom varies based on factors like size, materials, and design. Contact a reputable sunroom provider to get a personalized quote.
Can I customize my sunroom? Yes, sunrooms come in various styles, designs, and materials, allowing you to customize the space to match your home's architecture and personal preferences.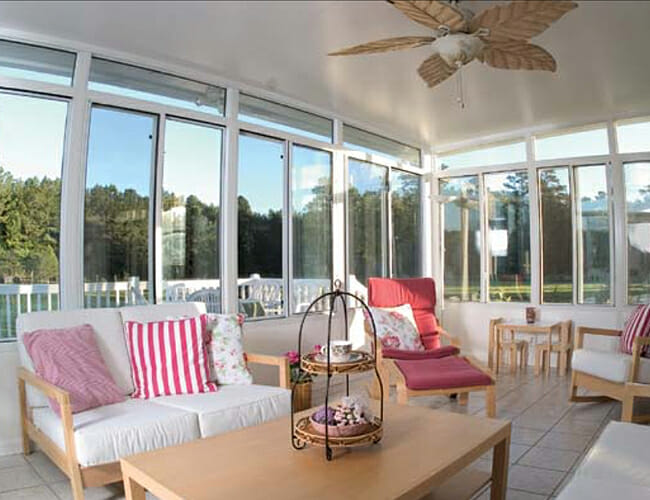 Our Other Services
Discover the unrivaled collection of exquisite custom designs and affordable options at Maclin Security Doors, located in Memphis, TN. Our dedicated team collaborates closely with you from initial consultation to seamless installation, ensuring all your requirements are impeccably fulfilled. Browse our extensive product line below and reach out to us today for further details.
Why Choose Maclin Security Doors for Your Sunroom Addition
Choose Maclin Security Doors for your sunroom addition and experience the pinnacle of expertise and craftsmanship. Our expert team will work closely with you, creating a custom sunroom that seamlessly blends with your home's architecture and reflects your unique style. With our dedication to quality, energy efficiency, and year-round usability, a sunroom addition from Maclin Security Doors will transform your living space and provide a serene connection to nature. Trust us to bring your vision to life – contact us today for a free consultation and unlock the potential of a stunning sunroom addition to your home.
Contact Maclin Security Doors Today
Enhance the security and aesthetics of your home with Maclin Security Doors! Reach out to us today for top-quality 3-season porch windows, inspiring sunroom window ideas, sliding windows for sunrooms, and reliable sunroom replacement windows. Don't delay – elevate your home with Maclin Security Doors.
Your Trusted Provider of Security & Storm Doors & More