Skip to Content
Screened In Porch Services in Memphis, TN
The Porch Screen Experts at Maclin Security Doors
Step into a world of outdoor serenity and relaxation with Maclin Security Doors' premier porch screen services in Memphis, TN. Our dedicated team is passionate about transforming your porch into a haven of comfort and protection. As a family-owned and operated company, we bring years of expertise and unwavering commitment to delivering top-quality products and unparalleled customer service. From initial consultation of your screen porch ideas to flawless installation, we collaborate closely with you to design and create custom porch screens that seamlessly blend with your home's aesthetic. Discover the full potential of a patio screen today – contact us for a complimentary consultation of your screened in porch and let us bring your outdoor vision to life.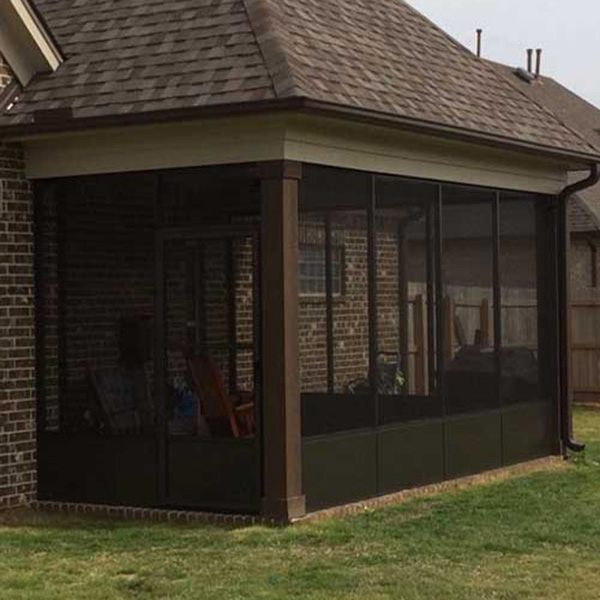 Types of Screen Enclosures
Screen enclosures come in various types, each offering unique benefits to enhance your outdoor living experience. Patio enclosures create a protected space ideal for relaxation and entertaining. With a range of options available, you can choose the type of screen enclosure that best suits your needs and complements your home's architecture.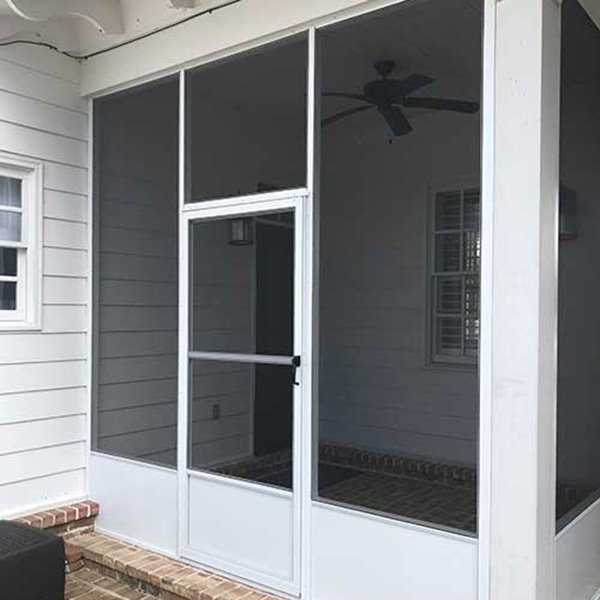 Installation Process
The screen room installation process is a meticulous and well-coordinated endeavor that ensures a seamless and functional addition to your home. It begins with a thorough assessment of your space, taking into account factors such as dimensions, structural integrity, and design preferences. Next, our expert team works closely with you to select the appropriate materials and design elements for your screen room. The installation itself involves precise construction techniques, including framing, attaching screens, and integrating patio screen doors and windows. Throughout the process, our skilled professionals prioritize attention to detail and quality craftsmanship to deliver a screen room that exceeds your expectations. Trust us to handle every step of the installation process with expertise and precision, transforming your outdoor space into a comfortable and bug-free haven for relaxation and enjoyment.
Benefits of Screen Rooms
Discover the numerous advantages that come with adding a screen room to your home. From protection against insects to enhanced outdoor living, a screen room offers:
Bug-Free Enjoyment – Enjoy the outdoors without the annoyance of pesky insects, as a screen room provides a protective barrier while still allowing fresh air and natural light to flow in.
Sun and UV Protection – Stay shielded from harmful UV rays while basking in the sun's warmth, as screen rooms can be designed with materials that offer sun protection without obstructing your view.
Privacy and Seclusion – Enjoy a sense of privacy in your outdoor sanctuary, shielded from prying eyes while still immersing yourself in the beauty of nature.
Increased Home Value – A well-designed and functional screen room adds value to your property, making it an attractive feature for potential buyers if you decide to sell your home.
Versatility – Screen rooms can be customized to suit your specific needs and preferences, allowing you to create a space that caters to your lifestyle, whether it be a cozy retreat or an expansive entertainment area.
Enhanced Aesthetics – Beyond the practical benefits, screen rooms add beauty and charm to your home's exterior, elevating its curb appeal and enhancing your outdoor living experience.
Protection from Debris – Screen rooms safeguard your outdoor furniture, plants, and decor from falling leaves, debris, and harsh weather conditions, helping keep them pristine.
Our Other Services
Looking to improve your home beyond a screen room? With Maclin Security Doors' expertise and dedication to excellence, we aim to meet all your home improvement needs, ensuring your property is safe, visually appealing, and designed to suit your unique lifestyle. Our expert team provides the following services:
Contact Maclin Security Doors
Contact Maclin Security Doors today and experience top-quality service and products that enhance your home's security and aesthetics. Whether you're looking for security doors, sunrooms, screens for the patio, or screen porch doors, our expert team is ready to assist you. Don't wait – reach out now for a consultation, and let us bring your vision to life.
Get inspired for your outdoor screen room
We've helped dozens of clients across the Mid-South change their porches and patios into comfortable, stylish enclosures. Browse our gallery to see the different types of screen rooms we offer and get ideas for your own outdoor screen room!
Get a free quote for your screened-in patio today!