Skip to Content
Screen Room in Memphis, TN
There are few things better than sitting on the patio in the evening, relaxing with friends and family over sweet tea and mint juleps. Unfortunately, swarms of gnats and obnoxious mosquitoes can make it tough to enjoy any porch party, not to mention the threat of a sudden thunderstorm. Fortunately, adding a screen enclosure is an easy, budget-friendly way to make these nights pleasurable again.
The screen rooms we offer at Maclin Security Doors allow you to enjoy your patio any time of year. Protect yourself, your family, and your furniture from bad weather, stop canceling outdoor parties and create a place you can use every day of the year.
There are endless benefits to installing a screened-in porch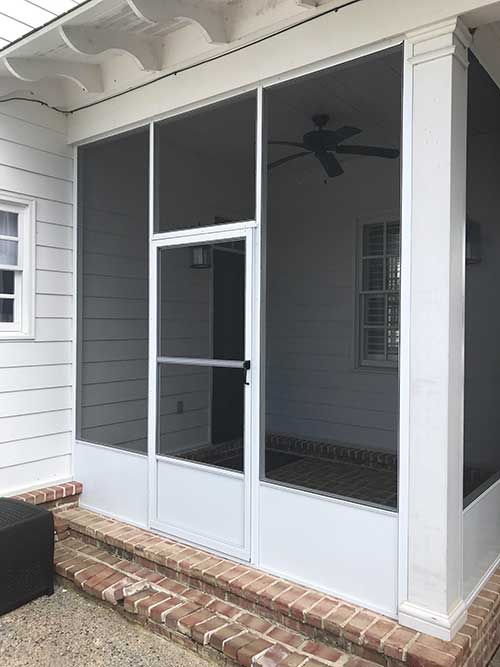 Enjoy the outdoors every day of the year
We offer a variety of screened-in porch designs, and the combination of customizable kick-panel sizes and screen lengths allows you to ensure your space is always accessible and comfortable. You can even add insulated, laminated wall panels to reduce outdoor exposure while still allowing in the fresh air and natural light.
Create a space that acts as a new room
By installing a screened-in porch, you create a space that is endlessly adaptable. Add electricity and a TV for game day, create an at-home office surrounded by nature, or install a small outdoor kitchen for al fresco meals. When you build a screen porch, you discover a new room in your house you never knew you had.
Enjoy the outdoors in privacy
A screened-in porch allows you to turn your patio into a small, relaxing getaway. Your porch enclosure can add a small layer of solitude without completely cutting you off from your backyard, neighbors, and home, giving you a quiet respite whenever you need it.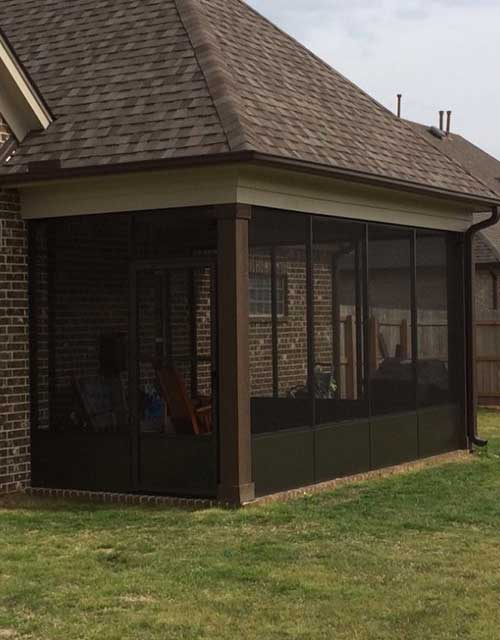 Add beauty and value to your home
Screened-in porches are a great, affordable way to increase your property value. Not only are they easy to install, but they're easy to upkeep, too. Plus, you can sell it as a great asset to potential homebuyers by recounting the times you've spent watching thunderstorms from beneath the patio cover's protection, or enjoying the most beautiful summer nights without any worry of mosquito bites.
Customize your porch to your style and needs
Whether you want your outdoor screen room to be a seamless addition to the house or a bold statement piece, we offer a huge range of colors, shapes, and sizes to fit your unique style. Talk to our experienced consultants today to learn what matches your personality and budget.
Get inspired for your outdoor screen room
We've helped dozens of clients across the Mid-South change their porches and patios into comfortable, stylish enclosures. Browse our gallery to see the different types of screen rooms we offer and get ideas for your own outdoor screen room!
Get a free quote for your screened-in patio today!