Skip to Content
How Do I Secure French Doors from Burglars?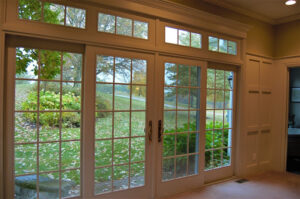 French doors are a popular choice for Memphis homeowners, thanks to their elegant style and ability to let in natural light. But are they as secure as other types of doors? Read on to learn more about the vulnerabilities of French doors and what you can do to make them more difficult for criminals to break into your home. 
What Homeowners Love About French Doors
French doors add a timeless and elegant look to your home, making them a popular choice worldwide. Here are some of the things that homeowners love about French doors: 
They allow for plenty of natural light to enter the home.

 

French doors can help to create an illusion of space in smaller homes.

 

They can be used to divide up larger spaces, such as living rooms and dining rooms.

 

French doors are relatively easy to maintain and keep clean.

 

They are available in a variety of styles and designs to suit any home décor.

 

French doors add a touch of elegance to any home.

 

French doors can be an energy-efficient choice for homeowners as they help to keep heat in during the winter and out during the summer.

 

They can add value to your home if you ever decide to sell.

 
If you are considering adding French doors to your home, be sure to keep these things in mind! 
Vulnerabilities of French Doors 
While French doors offer many benefits to your home, they also come with some unique challenges. French doors typically have glass panes, which can be easily broken. This means that criminals can enter your home by simply breaking a pane and reaching through to unlock the door. 
French doors also often have decorative hardware that can be pried open. This includes handles, locks, and hinges. If these components are not properly secured, a burglar could force them open and gain entry into your home. 
But homeowners that want the design and functionality of French doors need not worry. With the proper steps, you can secure your French doors from break-ins. 
Ways to Secure Your French Doors
French doors are a beautiful and popular addition to any home, but they can also be a security risk. Here are a few ways to secure your French doors: 
Contract with an

experienced door installation team

. This will ensure that your doors are properly installed and fit snugly into their frames.

 

Choose toughened glass

. This will make it more difficult for burglars to smash their way through your doors.

 
Make sure anti-snap lock cylinders have been used

. These are designed to resist forced entry attempts.

 

Ensure security hinges are properly fitted

. This will make it harder for burglars to remove the door from its frame.

 

Fit multi-point locking systems on all your French doors

. These provide additional security by engaging multiple points on the door when locked.

 

Use door chains or bars

. These can provide an extra level of security by making it more difficult for burglars to force their way through your doors.

 

Keep your doors and windows locked

. This may seem like an obvious one, but it's important to remember that even the most secure doors and windows are vulnerable if they're left unlocked.

 
Consider adding a security system

. This will help to alert you if someone does try to break into your home through the French doors.

 

Ensure locks on your doors are strong and in good condition

. Deadbolts are the best type of lock to use on French doors, so be sure to install them if you don't have them already.

 
Choose Maclin Security Doors for Your French Doors Installation
Looking for a stylish and secure way to let in some natural light and fresh air? Our French doors from Maclin Security Doors are the perfect solution! These beautiful doors are not only great looking, but they're also built to withstand even the most determined intruder. 
With strong, reinforced frames and heavy-duty locks, our French doors will give you the peace of mind knowing that your home is well protected. Plus, with a variety of styles and finishes to choose from, you're sure to find the perfect look to complement your home's décor. 
So don't wait any longer, contact us today and let us show you why Maclin Security Doors is the best choice for all your security needs!