Skip to Content
Are Sliding Glass Doors Secure?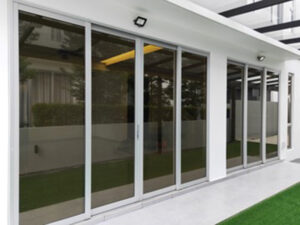 There's no denying that sliding glass doors offer a beautiful view and can really open up a space. They are popular with Memphis homeowners because they let in natural light, are easy to operate, and are very energy efficient. But when it comes to security, to keep your home burglar safe, it is important to take a few steps. Read on to learn what those steps are so you can enjoy your sliding glass doors with greater peace of mind.
Use a High-Quality Lock
Sliding doors are particularly vulnerable to break-ins, so it's important to use a lock that will withstand a lot of force. Look for a deadbolt or other heavy-duty lock that is rated for security. This will make it much harder for burglars to break into your home through the sliding glass doors.
Install a Security Bar
Installing a security bar is a simple but effective way to make your sliding door more secure. A security bar prevents the door from being forced open, even if the lock is breached.
Use Impact Resistant Glass
One way to make your sliding glass doors more secure is to install impact-resistant glass. This type of glass is designed to resist shattering, even if it's hit with a heavy object. It's also much harder for burglars to break through, so it's a good investment if you're worried about security.
Add a Security Film
This is a thin film that adheres to the glass and makes it much harder to break. It's an especially good idea if you have large windows or glass doors nearby, as this will make them more difficult to access as well.
Get a Security System
A home security system will not only deter burglars, but it can also alert you if someone does try to break in. Many systems now come with cameras and other features that can be useful in identifying a burglar.
Ensure Your Sliding Glass Door Is Installed by a Professional
While do-it-yourself installation kits are available for sliding glass doors, it's best to leave the work to a professional. Not only will a professional know how to properly install the door and its components, but he can also ensure that the door is secure.
Enlist the Help of Maclin Security Doors in Memphis to Get Started Today!
If you're looking for a sleek, stylish way to add security and privacy to your home or business, look no further than Maclin Security Doors in Memphis, TN. We offer a wide selection of sliding glass doors that are both durable and chic.
Whether you're looking for a traditional style door or something more modern, we have the perfect option for you. Our doors are made from high-quality materials and come in a variety of colors and finishes to match any decor. Plus, our team of experienced professionals can help you customize your door to ensure it meets your specific needs.
Contact us today to learn more about our sliding glass doors and how we can help you secure your home or business.