Skip to Content
The Benefits of Having a Patio Cover for Your Outdoor Space
A patio cover is the perfect addition to your outdoor space. It can provide you and your family with protection from the elements while still allowing you to enjoy your backyard or patio. If you're considering adding a patio cover to your outdoor space, this blog post will tell you why it's worth it and what kind of benefits you can expect.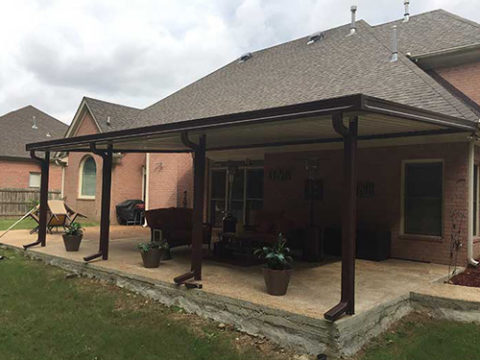 Protection From the Elements
A patio cover offers maximum protection from the sun, wind, rain, and snow. With a patio cover in place, you won't have to worry about being exposed to harsh weather conditions when spending time outdoors. This means that you and your family can enjoy your outdoor space even on days when the weather isn't ideal. Plus, unlike an umbrella or canopy, a patio cover is designed to last for years. This means that once it is installed, you won't have to worry about replacing it every few years due to wear and tear.
Increased Home Value
Having a patio cover installed could also increase the value of your home if you ever decide to sell in the future. Potential buyers appreciate homes that have features like patios with covers because they offer extra living spaces that are protected from harsh weather conditions as well as unwanted pests and critters. Plus, having this feature already installed can save them time and money when compared to building one themselves later.
Curb Appeal
For those who want their homes to stand out on the block, having a beautiful patio cover installed can add character and charm that will make it more attractive than other homes in the neighborhood. At Maclin Security Doors in Memphis, TN we offer a variety of custom designs that are sure to match any aesthetic so that your home looks its best!
Entertainment Options
Patio covers can be a great way to add an outdoor entertainment space. They provide protection from the elements and keep you comfortable while outside, no matter the time of year or time of day. Because patio covers allow you to stay dry and cool, they extend the amount of time you can spend outside, giving you more ways to enjoy yourself. From relaxing afternoons with lunch on the patio to evening dinners al fresco, patio covers give you a range of options for how to use your outdoor space. Whether it's having a gathering with friends or just some quality alone time, patio covers make it possible for you to make the most out of your patio.
Maclin Security Doors Can Install Your Patio Cover with Ease
Maclin Security Doors is the perfect choice when looking to install a patio cover. As a family-owned and operated business, our expertise in patio covers is unparalleled. Backed by premier products, our reliable and honest service will ensure that you have peace of mind with your patio cover installation. Our knowledgeable staff provides a professional yet approachable attitude that cannot be matched. All this makes us one of the best patio cover installers around! If you're looking for an easy way to upgrade your outdoor area, then consider ordering a custom-made patio cover from Maclin Security Doors today! You won't regret it! Contact us today!