Skip to Content
How to Add a Screen Room to an Existing Patio or Deck?
With the warm weather upon us and summer just around the corner, it's time to start thinking about how you can make the most out of your outdoor space. One great way to do this is by adding a screen room to an existing patio or deck. A screen room adds value, functionality, and comfort to an outdoor area. Let's take a closer look at why adding a screen room can be such a great investment for your home.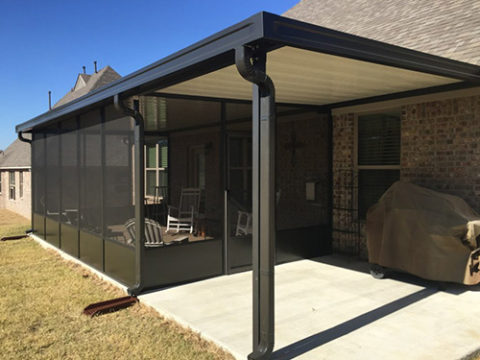 How Screen Rooms Work
A screen room is essentially an enclosed space with screened walls and roof that provides protection from bugs, sun exposure, and other elements. It gives you the opportunity to enjoy your outdoor area without worrying about pesky bugs or too much sun. It also allows you to entertain guests in comfort all year round—even during colder months when there's no need for air conditioning.
Establish a Project Design
The first step in planning for a screen room is to establish a project design. You'll need to consider factors such as size, shape, materials, and budget before you move forward. In addition, you'll need to think about the level of complexity of the project and whether you need professional help to get the job done right. Determine the intended purpose of the future screen room. Will it be used year-round? Will it be finished out like a room addition to your home or more informal? Once you have established the desired design, you can move on to evaluating your existing deck and determining the necessary budget for this project.
Evaluate Your Deck
Once you have decided on the project design, it's time to evaluate your existing deck. Is your deck already roofed? If so, you may be able to use this existing structure as part of your new screen room. If not, then you'll need to factor in additional costs associated with adding a roof before proceeding with the installation of the screen room itself.
Determine a Budget
Accurately setting and sticking to a budget is essential when transforming your patio/deck into a screen room. The cost of materials for this type of project can vary greatly depending on size and complexity of design so make sure to set aside enough funds for all aspects of the build-out prior to beginning construction. Maclin Security Doors specializes in helping customers in Memphis, TN with their custom needs whether its metal buildings, carports, gates or even just security doors! We're here to help our customers get exactly what they need at an affordable price!
Do You Want Window Panels?
Finally, one of the last decisions that needs to be made when installing a screen room is whether window panels will be included in its design. This feature can add value and sophistication while also allowing light into your new outdoor living space during daylight hours (and even providing some visibility at night). Ultimately, whether window panels are included will depend upon both personal preference and budget constraints, but either way it's an important decision that must be made prior to construction beginning.
Contact Maclin Security Doors Today!
Adding a Screen Room is no small feat but with proper planning it can enhance both form and function of any outdoor living space. Before beginning any major projects make sure that local building codes are up-to-date and that there's enough budget set aside for all aspects of construction—and don't forget about Maclin Security Doors as we specialize in helping customers in Memphis, TN with their custom needs! Whether its metal buildings, carports, gates or even just security doors, we're here for all our valued customers! Contact us today!