Skip to Content
How to Maintain and Clean Your Screen Room for Longevity
Whether you've recently had a screen room installed, or you're the proud owner of one already, maintaining and cleaning your screen room is key to keeping it in good shape. With proper maintenance and cleaning, you can ensure that your screen room will stand up against the elements for years to come. Here's what Maclin Security Doors in Memphis, TN recommends for regular maintenance and cleaning of your screen room.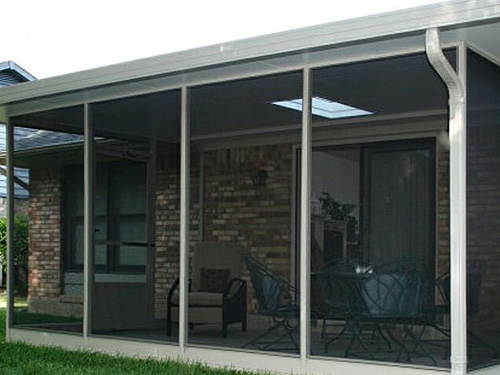 Clean It Regularly
One of the easiest ways to maintain your screen room is by giving it regular cleanings. This includes brushing away dirt and debris from the screens as well as washing them down with a gentle soap and water solution. A soft brush is best for this job, as strong bristles can damage the screens. You should also be sure to keep any plants or garden items away from the screens to prevent them from getting clogged or damaged by pollen or other materials.
Inspect It Thoroughly
It's important to inspect your screen room regularly for signs of wear and tear such as bent frames, broken springs, etc. If these issues are caught early enough, they can often be easily repaired before they become major problems. Additionally, make sure that all screws are tight and that there are no gaps between the frames or joints that would allow moisture or pests into your home.
Repair Any Damage Quickly
If there does happen to be some sort of damage to your screen room—whether it's a bent frame or torn fabric—it's important that you repair it quickly in order to prevent further damage down the road. Minor repairs such as replacing missing screws or patching small holes can often be done on your own with some basic tools and supplies; however, more complicated repairs should always be handled by a professional who has experience dealing with these types of issues.
Is it Time for an Upgrade?
If you're looking for a cost-effective way to keep your screen room clean, consider upgrading it with a low-maintenance electrostatic finish. This versatile coating stands up better than traditional paint and is scratch resistant, keeping your screen room looking fresh and inviting even after years of wear and tear. It also repels dust and dirt, so you can spend less time scrubbing away caked-on grime and more time enjoying the peace and quiet of your screen room. Plus, its water-resistant properties mean you won't have to worry about battling mold or mildew either! Ultimately, if convenience is what you're after when cleaning your screen room, an electrostatic finish is definitely a worthwhile investment—one that will pay off in lower maintenance costs.
Contact Marlin Security Doors in Memphis Today!
Maintaining and cleaning your screen room regularly will help ensure its longevity and reduce potential repair costs down the line. From brushing away dirt and debris off of the screens to inspecting all parts for signs of wear and tear, following these simple tips will keep your screen room looking great year after year! At Maclin Security Doors in Memphis, TN we're here to help if you need any advice on how best to maintain and clean your new (or existing) security door system! Contact us today!