Skip to Content
How to Choose the Right Size and Style of Patio Covers for Your Home
Are you looking to transform your backyard? A patio cover is a great way to add value, style, and protection from the elements to your outdoor space. But with all the different sizes and styles available, how do you know which one is right for you? Here's what you need to know about choosing the perfect patio cover for your home.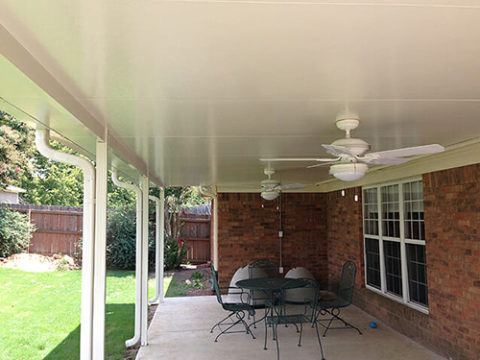 Style Considerations
When it comes to finding the perfect patio cover for your home, style considerations are key. Do you want a traditional look or something more modern? The answer will depend on your personal preference and the architectural style of your house. If you want something that blends in nicely with your existing architecture, Maclin Security Doors offers a variety of classic designs to choose from. For something more unique, our selection of modern styles can help create a stunning focal point in any outdoor space.
Size Considerations
Once you have an idea of what style fits best with your home's aesthetic, it's time to consider size. You'll want make sure that whatever patio cover you choose is big enough to comfortably fit all of your furniture and protect them from elements like sun and rain. That said, there's no need to go overboard; patio covers come in a range of sizes so be sure find one that fits perfectly without being too large or too small.
Material Considerations
It's important to consider what type of material will best suit your needs when selecting a patio cover. There are several materials that can provide excellent protection from weather and other elements such as steel panels. If durability is important factor for you, then Maclin Security Doors' steel patio covers may be the ideal choice for you; they provide superior strength and resistance against rusting compared to other materials on the market today. On top of that, steel requires minimal maintenance meaning less hassle down the road! Ask about our Insulated patio covers for more comfort from the elements.
Partner with Maclin Security Doors Today with Help with Your Patio Cover!
Choosing the right size and style of patio covers for your home doesn't have to be overwhelming; just take some time to consider these factors before making a final decision: 1) What style fits best with my home's aesthetic?, 2) Is it big enough?, 3) What material is best suited for my needs? With these questions answered in mind, finding the perfect patio cover for your home is easy thanks Maclin Security Doors in Memphis! We specialize in customizing our products specifically for each customer so that every finished product looks beautiful while also providing exceptional protection from all kinds of weather conditions! Contact us today if you'd like help finding the perfect solution for all your outdoor needs!