Skip to Content
Sunroom vs. Screened Porch: Which Is Right for Your Home?
Have you been considering adding an outdoor living space to your home? Whether you're looking to relax outdoors in peace and quiet, or entertain family and friends, a sunroom or screened porch might just be the perfect addition. At Maclin Security Doors, we provide the very best in outdoor living spaces. Read on to learn more about sunrooms and screened porches so that you can make an informed decision!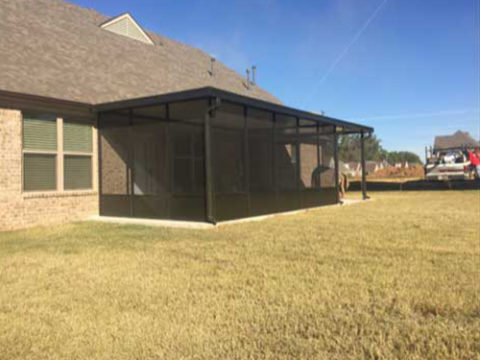 Sunrooms
Sunrooms are one of the most popular outdoor living spaces because they are versatile and easy to maintain. They have glass walls which allows you to enjoy your view from inside a warm, comfortable setting. Sunrooms come with a variety of options such as built-in fans, air conditioning systems, and heating elements for year-round comfort. You can also customize your sunroom with furniture pieces that are designed to withstand outdoor elements like rain and snow.
Screened Porches
Screened porches are another great option if you want to enjoy being outside without having to worry about bugs or rain. The screens prevent insects from entering while still letting in natural light. The screens also allow for air circulation which means it won't get too hot during summer months. Another benefit of screened porches is that they are more affordable than sunrooms since they don't require as much construction work. Plus, if you live in an area with mild winters, you can use your screened porch all year round!
Climate Considerations
When deciding between a sunroom and screened porch, the climate in Memphis should be taken into consideration. While both offer an outdoor living space, sunrooms provide full insulation which keeps out the heat and humidity of Memphis summers. If you prefer an open-air feel without sacrificing insulation, consider adding windows or screens to your sunroom for added ventilation.
On the other hand, if open air is your main priority, then a screened porch may be more suitable because it offers protection from bugs while still allowing some natural sunlight through.
Both Options Provide Plenty of Benefits
No matter which one you choose—a sunroom or screened porch—you will be able to enjoy additional living space that is tailored specifically for your needs! Both options create a comfortable environment where you can relax or entertain guests regardless of the weather outside. And because both sunrooms and screen porches are designed to stand up against extreme conditions, you can rest assured that your investment will last for years to come!
Let Us Guide You!
At Maclin Security Doors in Memphis, TN we offer both sunrooms and screened porches so that our customers can choose the best option for their home. Whichever one you decide on, know that our team is here to help guide you through the entire process from start to finish. Before long, you'll be able to sit back and relax in your very own outdoor living space! Contact us today for more information about what we can do for your home!